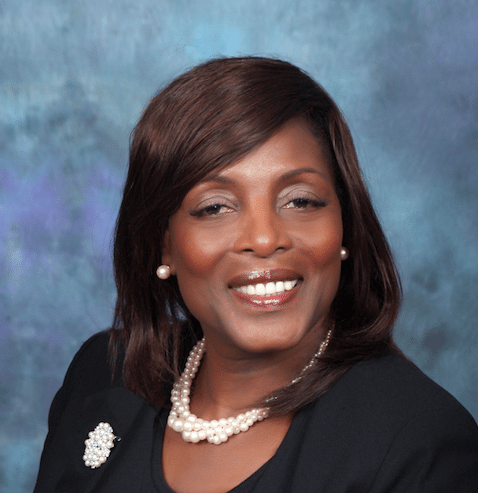 June Collison brought her considerable health care experience and expertise to Dignity Health – Community Hospital of San Bernardino in February 2012. As president of this 347-bed acute care hospital, she is focused on keeping the organization at the forefront of industry change to meet the demands of health care reform and the challenges of a depressed local economy.
Community Hospital has been serving Inland Empire residents in and around San Bernardino
for more than 100 years, initially as a stand-alone community hospital. In 1998, the hospital joined the Catholic Healthcare West family, which became Dignity Health in 2012. As a not-for-profit, disproportionate share, non-denominational hospital, its mission is rooted in building a healthier community and serving the needs of a diverse population. Collison's role includes preserving that heritage and building upon it to take the organization to the next level.
In addition to her responsibilities as president of Community Hospital, Collison also serves as a key member of the Dignity Health Inland Empire Service Area leadership team, which provides strategic direction for collaborative efforts with sister Dignity Health hospital, St. Bernardine Medical Center. St. Bernardine is a 342-bed not-for-profit, faith-based, tertiary care hospital, also located in San Bernardino. Working together as a Service Area, the hospitals are sharing the best from each organization to strengthen both, identifying efficiencies in order to expand community access to needed services.
Collison is no stranger to the Inland Empire and understands the issues impacting its communities. She served in top leadership roles at Arrowhead Regional Medical Center in Colton from 2000 to 2007, first as chief operating officer and then as chief executive officer. Since that time, she has served as chief operating officer at Olympia Medical Center, a physician-owned, 204-bed acute care medical/surgical facility in Los Angeles. Throughout that period, she maintained her personal residence in the Inland Empire.
Now a seasoned senior health care executive with 25 years of experience, Collison's health care career began in finance, serving as a controller and chief financial officer. She has an MBA in Corporate Investment and Finance, as well as a bachelor's degree in Banking and Money Management, both from Adelphi University in Long Island, New York. She is an accomplished woman, with many honors and awards to her credit, not the least of which are former Woman of the Year for the City of Pasadena and internationally ranked sprinter and Olympic contender in the 1984 Games in Los Angeles. She is also a former chairwoman of the California State Athletic Commission.