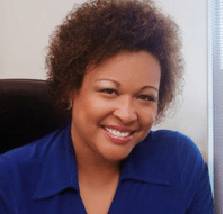 Leah Brown is President and Chief Health Innovator of A10 Clinical Solutions, Inc. (A10) www.a10clinical.com. She founded A10 in honor of a close relative who died from HIV/AIDS in the 1980's, a time when minimal education or treatments were available to save him.  A10's mission is "Healing the World" which translates into life-saving engagements by providing state-of-the-art health-related services for government agencies, pharmaceutical/bio-tech companies and academic medical institutions.
A10 is a nationally-acclaimed full-service medical services and clinical research firm. A10 has provided services ranging from occupational health, medical surveillance and epidemiology to patient recruitment, healthcare compliance consultancy and clinical call centers.
Leah is also the co-founder of the non-profit Diversity Alliance for Science, Inc. aimed at partnering minority, women, GBLT, veteran-owned suppliers with health-related business opportunities.  Through her contributions at A10 and her non-profit, Leah has been ranked by Fortune magazine in 2010 –  Top 10 Most Powerful Women Entrepreneurs.  Further, Inc. magazine, ranked A10 in 2010, 2011, and 2012 as one of its top health, woman-owned, black-owned, and American job-creating companies.  A10 was also named in Black Enterprise as a BE 100. Leah's leadership has also garnered recognition and accolades from Bloomberg BusinessWeek, American Express OPEN, CNBC, NBC Nightly News, and others. This year, she received the Business Excellence Award from the State of North Carolina. Leah was named North Carolina Ernst & Young Entrepreneur of the Year in 2010.
In 2014, Leah was stopped in her tracks by a freak accident that caused her to undergo three surgeries and be confined to a wheelchair for months.  This setback didn't stop her entrepreneurial spirit.  While recovering, she launched a company C10 Connect www.c10connect.com  which developed an app to improve patient (and the patient's caregiver) satisfaction through enhanced communications between hospital-admitted patients and their care team.
Leah is a licensed NC attorney, has held several executive corporate positions in the healthcare industry, and has attended executive management programs at Tuck School of Business at Dartmouth and Kellogg School of Business at Northwestern University. Along with other board appointments, she is a member of the National Advisory Board for the North Carolina Institute for Emerging Issues, where she works tirelessly to bring novel ideas to the healthcare industry.