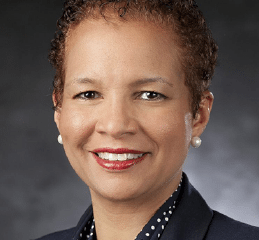 Appointed in July 2014, Pamela Sutton-Wallace currently serves as the Chief Executive Officer for University of Virginia Medical Center in Charlottesville, Virginia.  The UVA Medical Center is a nationally-recognized academic medical center which includes the 612-bed hospital and more than 100 primary and specialty care clinics throughout Virginia.  UVA Medical Center operates eleven (11) service lines, many with national designations and recognitions for outstanding clinic outcomes.
Prior to joining UVA, Pam served as Senior Vice President for Hospital Operations of Duke University Hospital, a 1,100 bed hospital, in Durham North Carolina.  During her 17 year tenure at Duke, she served in several leadership positions including:  Chief Operating Officer for Ambulatory Services, Vice President for Perioperative Services and Chief of Staff for the Chancellor for Health Affairs.  In addition to her tenure with Duke University Health System, Pam has a diverse health care background with experience in the pharmaceutical and insurance industries with Pfizer and Blue Cross & Blue Shield of North Carolina, respectively.
Pam currently serves on several professional and community boards including the American Essential Hospitals, Vizient's Academic Medical Center Board of Managers, American Hospital Association Region 3 Policy Board, Virginia Hospital and Healthcare Association, Virginia Center for Health Innovation and the United Way-Thomas Jefferson area.
Pam hails from Randallstown, MD and received her undergraduate degree in Political Science and African-American Studies from Washington University in St. Louis, MO.  She later graduated from Yale University with a Master of Public Health (MPH) degree, completing her thesis with distinction.
In 2007, she was named by Modern Healthcare as a "2007 Up & Comer," a national recognition of health care executives under the age of 40.  More recently, Pam has received several accolades from the:
Association of Yale Alumni in Public Health on the Winslow Centennial Honor Roll for Excellence and Service
Modern Healthcare's "Top 10 Minorities to Watch"
org as an award recipient of Top Blacks in Healthcare
Becker's Hospital Review as one of the Top 10 Women in Healthcare
She is an active member of Alpha Kappa Alpha Sorority, Inc., and National Association for Health Services Executives where she enjoys speaking, mentoring and encouraging the next generation of leadership, especially women.
Pam is married to Maurice O. Wallace PhD, associate professor of English and associate director of the Carter G. Woodson Institute at the University of Virginia and Senior Pastor of Cornerstone Community Church in Durham NC.  Together, they are proudly raising two brilliant and beautiful daughters, Sage (17) and Amaya (16).