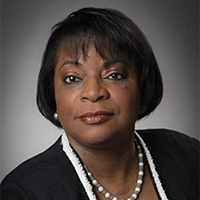 Alfreda Bradley-Coar is a transformational global leader with a unique corporate track record in combining effective management of enterprise risk and compliance with sustainable business growth. She has been a leader in multiple business environments which includes diverse industries, various stages of organizational maturity and multiple economic settings. She has extensive background in highly regulated industries including Healthcare, Insurance, Financial Services and Manufacturing. With nearly 25 years of Fortune 50 experience across legal, business and operations, she brings a specialty in leading organizations to grow and transform by leading cross-functionally to achieve optimum success against multiple goals. One significant achievement was to create, gain consensus for and ultimately lead an innovative, integrated partnership of business and legal functions in the commercial area of the $100+B General Electric Company. Currently, Ms. Bradley-Coar is advising companies at all stages of development on growth strategies, operational processes and risks.
Ms. Bradley-Coar was in the top 1% of the global leadership of GE and a member of the Legal Corporate Executive Council that developed its overall legal strategy. She spent a decade as Chief Legal Officer (General Counsel) for GE Healthcare, Americas and as head of Product & Regulatory Services for GE Insurance. At GE Healthcare, she was responsible for counseling Healthcare, Americas $9B revenue, Global Supply Chain's $9B spend, Medical Research and Information Technology departments. She provided strategic direction and set objectives for global business units focusing on Diagnostic Imaging, Healthcare IT, Pharmaceutical, Life Sciences and Consulting. Ms. Bradley-Coar oversaw enlarging the global footprint by introducing new products and services, leading major acquisitions and divestitures in Consulting and IT spaces, optimizing talent, systems and processes to respond, and plan for the rapidly changing healthcare industry. She addressed customer issues and demands which resulted in process improvements to enhance customer experiences. At GE Insurance, Bradley-Coar led three departments: legal; rate negotiation/filing and corporate licensing for commercial insurance business units that provided general and professional liability insurance for health systems and health professionals.
Throughout her 23-year tenure at GE, Ms. Bradley-Coar held increasingly expansive executive roles in legal and operations across Corporate and four business units: Healthcare, Financial Services, Insurance and Transportation. In 1995, she was Associate General Counsel for the $100MM GE Rail Services Corporation. In 2001, she served as Vice President and Chief Legal and Regulatory Counsel for GE Insurance($5B), the unit that served health systems and health professionals, along with public entity and commercial real estate customers. She established the blueprint for state-of-the-art regulatory and compliance programs, which was adopted by the acquiring insurance company. She negotiated divestiture of underperforming P&Ls including a major subsidiary, and managed complex risk issues associated with the company's sale to the largest global reinsurer. She also served as a director of a wind-down insurance company and as interim general manager of the Chicago office. In 2005, Ms. Bradley-Coar was Vice President & General Counsel of the $2B GE Trailer Fleet Services and managed three departments while positioning its modular space business for eventual divestiture. In 2006, she became General Counsel for GE Healthcare, Americas which included Supply Chain, IT and Medical Research. In 2016, Ms. Bradley-Coar was promoted to her last position at GE, the innovative role as Chief Commercial Counsel for GE. This new role was created to partner business and legal leaders to drive growth, customer satisfaction, commercial excellence and simplification. An enterprise-wide strategy and Center of Excellence model for legal, sales, marketing and commercial operations was developed and implemented by Ms. Bradley-Coar to lead and develop over 700 commercial lawyers who service nine business units.
Ms. Bradley-Coar's governance experience includes businesses, associations and non-profit service. She was selected by the CEO of GE Insurance to serve as an Intercompany board member for GE Union Fidelity Life Insurance Company. Ms. Bradley-Coar serves on the Board of Directors for The Leverage Network and as a member of the Global Credentialing Committee for the Association of Corporate Counsel. She is a board member for the YWCA Metropolitan Chicago where she serves on the Program Development Committee. Former board service includes the Marcus Center for The Performing Arts (WI), where she helped to develop new strategies for diverse programming, sponsorship and audience development and as member of the American Kidney Fund.
Ms. Bradley-Coar is recognized for her C-suite counseling, innovation, energy, collaborative spirit, sound judgment and strong interpersonal and communication skills. She has had many achievements in Strategic and Transformation Leadership, Enterprise Risk Management, Global Growth, Customer Advocacy, Crisis and Brand Management, Commercial Operations, Change Management and Developing High Performance Teams. She served as National Operating Leader for the African American Forum of the Chairman's Diversity Council. Ms. Bradley-Coar developed her expertise in being a complex problem solver and transformation expert as early as her tenure with the U.S. Bankruptcy Court (N.D. Illinois), and as a corporate reorganization specialist with two leading law firms Bell, Boyd & Lloyd (now K&L Gates) and Seyfarth, Shaw, Fairweather & Geraldson (now Seyfarth Shaw).
Ms. Bradley-Coar is the recipient of numerous awards and honors. She was named 2016 "General Counsel of the Year" by the National Bar Association, recognized as one of the "2015 Most Influential Black Lawyers in America" by Savoy magazine and received the 2012 "Top Corporate Counsel" award from the Milwaukee Business Journal. She is a member of the Association of Corporate Counsel, the American College of Healthcare Executives, the Executive Leadership Council and the Economic Club of Chicago.
Ms. Bradley-Coar holds an MBA from the Kellogg Graduate School of Management, Northwestern University, a JD from the University of Pennsylvania Law School and a BA (cum laude) from the University of Pennsylvania.