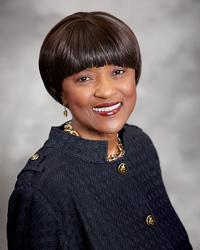 Ruth W. Brinkley is SVP, Operations, Catholic Health Initiatives and President/CEO of KentuckyOne Health. With almost 40 years of health care experience, Brinkley has worked in private, public, academic and community-based health systems.
Brinkley's past experience includes executive positions as Ascension Health's West Market Leader and as Catholic Health Initiatives' President/CEO of Memorial Health Care System, and Senior Vice President, Performance Management. Her academic experience includes serving as associate executive director, chief nurse executive and associate dean of clinical practice at the University of Alabama Hospitals in Birmingham.  She also served as a senior consultant with CSC Healthcare, working with many of the most complex academic medical centers and community hospitals in the US and Canada. Prior to her consulting experience, she held executive roles at health care organizations in St. Louis and Chicago.
A registered nurse, Brinkley holds Bachelor and Master of Science degrees from DePaul University.  She is a Fellow in the American College of Healthcare Executives; a member of the Advisory Board of the Kentucky Health Benefit Exchange; board member of De Paul University; and a member of the National Association of Health Services Executives and American College of Health Care Executives. Often recognized for her accomplishments, she has been frequently cited by industry analysts for leadership. She has been named by Becker's Hospital Review as "A Female Health System Leader to Know", one of the "10 Most Admired CEOs in Healthcare" in 2014, and recently received a 2015 Becker's Hospital Review "Leadership Award".  In 2010, 2014 and 2016 she was recognized as one of Modern Healthcare Magazine's "Top 25 Minority Executives in Healthcare", and in 2015 she was cited as one of Modern Healthcare Magazine's "Top 25 Women in Healthcare".